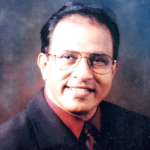 Rt. Rev. Dr. Albert V. Jebanayagam, founder and president of Canaan Fellowship International Church, was raised in a family of Pentecostal background in the beautiful island of Sri Lanka. His mother is a fourth generation Christian while his father had once been a devout Hindu. By the grace of God, his father had a wonderful and dynamic transformation when he believed in Jesus and became a Christian some years before Albert was born. So like young Timothy of the New Testament, the faith of his mother's parentage and the righteous discipline of his father made a tremendous impact in little Albert's life at home.
At the age of nine, Albert fell in love with the Lord Jesus and invited Him into his heart as his personal Saviour. Shortly after, in simple child-like faith, he received the baptism in the Holy Spirit and was filled with power from on high. By and by, the Word of God grew in him as Albert increased in wisdom and stature, in favour with both God and men.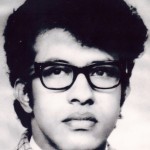 During his college years, his quest for academic excellence coupled by the worldly influence of secular peers caused him to begin questioning and doubting his faith in God. For a little while, Albert drifted away from the Lord. When he was eighteen, his father passed away peacefully into the loving arms of Jesus, but for Albert, it was his first coming face to face with death. Standing by the dead body of the man he loved dearly, Albert recognized the futility of life. There and then, he sensed the beckoning of the Holy Spirit and in a prayer, he rededicated his life back to Jesus. Once again, Jesus Christ became him first and only love.
---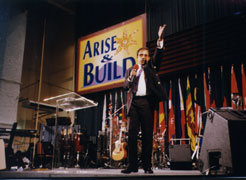 Albert went on to the University and obtained a bachelor's degree in Mathematics. He then proceeded to the University of Manchester in England for further studies. Thereafter, he joined the National Westminster Bank as an executive. It seemed, at that time, that the future was bright for him to climb the corporate ladder to financial success. But unlike the professionals of the world, the fire of God was burning within him. Albert spent all his spare time preaching and teaching the Word of God. Weekends, holidays and vacations were spent running around from city to city, speaking publicly and boldly in places like Trafalgar Square, Nottingham Square and even railway stations. Occasionally, you could even find him witnessing and preaching outside pubs! So the young man literally gave all his spare time to Jesus, and the Lord, in His goodness, took him all over England, France, Germany and many other European countries. By this time, the young man was contemplating settling down, marrying an English girl and making England his home. However, the Lord had other plans.
One day, God began to speak in a still small voice, "Albert, My Son Jesus died for you. Now, what will you do for Him?" That question shook him to the core of his being, and desperately trying to justify himself, our brother answered, "Father, I have spent all my spare time and all my earnings on your work, what more can I do?" The Holy Spirit then brought a verse to his remembrance from the gospel of Luke: "If anyone comes to Me and does not hate his father and mother, wife and children, brothers and sisters, yes, and his own life also, he cannot be my disciple. And whoever does not bear his cross and come after Me cannot be my disciple." (Luke 14:26-7)
The time had come for him to move on into a greater dimension with God. Albert was aware then that the Lord was calling him into the full-time ministry. The young man decided to take this verse literally and gave up everything to become a servant of the Most High God in the year 1970. Again the Spirit of the Lord brought Acts 1:8 to his mind. "If you want to truly serve Me, go back to your Jerusalem." The direction was clear. He had to return to the land of his birth. Turmoil raged within his as he wrestled with the Spirit of God on his knees that night. But knowing that had to obey the Master he loved, Pastor Albert took the British citizenship application form and tore it to many pieces. There and then only, did he know that his destiny in the Lord was finally set.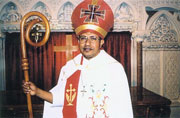 In December 1996 Pastor Albert obtained a Master of Philosophy (Missiology) from New Covenant International University, Florida. In November 2001 he was consecrated as a Bishop in London by the International Charismatic Assembly of God. Thereafter, he obtained his Doctor of Philosophy (Ph.D. in Biblical Studies) in Florida, USA in June 2003 and was conferred a Doctor of Divinity by the South Asia Institute of Theology in November 2003.
---
In the year 1972, Albert Jebanayagam gave up the possibility of becoming a British citizen and all his youthful ambition, to go back to Sri Lanka. There he formed a prayer band of about 35 people and went on a 10-day fast. Together, they fasted day and night for a revival in the land. At that time, Sri Lanka was the paradise of the Indian Ocean. It was a perfectly peaceful land. But as the prayer warriors began to storm the gates of heaven, the Lord unfolded to them all the terrible things that would happen in the near future. Through prophecies, visions and confirmation from the Bible, God showed them how Sri Lanka would be ravaged by terrorism and bloodshed. They saw the streets of Sri Lanka filled with dead bodies and blood flowing everywhere.
Receiving these warnings about the future of the nation brought a great sense of responsibility to the group. There arose within the people a burden to get on their knees to intercede and an urgency to warn their countrymen of the coming calamity. Thus, the people went from village to village, from town to town, with the message: "Repent and come to Jesus for great judgement is coming." Some believed, many just laughed.
Not deterred, the prayer band went from strength to strength and numbers were added from time to time.
This growing band of believers began to worship in public places, schools, and even under mango trees! As the numbers grew, a building was put up in the north of Sri Lanka, at Erupalay, Kopay. It originally started with one hall and two rooms, but today, it has gone through much physical transformation to become the headquarters of Canaan Fellowship International Church. Branches were also set up in many places all throughout the island, such as Kalubowila, Dehiwala, Trincomalee, Uppuveli, Badulla, Batticaloa, Kalmunai, Chavakachcheri, Vaddukoddai, Tellipallai, Chundikuli, Murungan, Mannar and Killinochi.
---
My dear friend, even as you read about this story and examine your heart, all you may feel is emptiness, loneliness, sadness and weariness. No matter what station of life you may be at today, God wants to send His peace, His joy and His love into your heart if you would allow Him to. Jesus said, "Come unto Me all ye that labour and are heavy laden, and I will give you rest." (Matt 11:28) Are you laden with sins, sickness, anxieties and frustrations? Why not ask Jesus to come in and give you His rest? Say this prayer now:
"Father God, I know I am a sinner. I thank You for sending Jesus Christ to die on Calvary's Cross for my sake. Please forgive me of all my sins and come into my life right now. Send me Your Holy Spirit and give me the peace, joy and love that only You can bring. I pray all these in Jesus' name, amen. Thank you Lord, for answering my prayer."